Analysing the effects of critique techniques on the success of Interior Architecture Students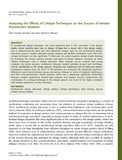 Embargo Lift Date: 2020-01-22
Author
Günday-Gül, Ç. G.
Afacan, Yasemin
Date
2018
Source Title
International Journal of Art and Design Education
Publisher
John Wiley & Sons Ltd
Abstract
In architectural design education, the most significant part in the curriculum is the design studio, where students learn how to design. Critique has a crucial role in the design studio, and in determining the best and most beneficial critique type for the architectural design education process. Student attitudes toward critiques and student satisfaction level with each critique technique are also significant. To that end, this article explores design studio learning by reviewing the design learning process and types of design critiques. Focusing on three critique techniques used in design education (desk critiques, pin-up critiques and group critiques), the article analyses correlations between student attitudes toward each technique and its contribution to the design process. Research was conducted with 84 third-year interior architecture students from the 2014-15 Fall semester at a university. No statistically significant differences were found between group and pin-up critiques in terms of students' preferences and their final performance scores; however, there was a statistically significant relationship between student preferences toward desk critiques and student success. Furthermore, the contribution of a critique technique to the design process was found to be highly correlated with student preference for this technique.
Collections
Related items
Showing items related by title, author, creator and subject.
Dankoff, Robert

(

Bilkent University

,

2000

)

Tibawi, Abdul Latif

(

Bilkent University

,

1979

)

Tietze, Andreas

(

Bilkent University

,

1977

)