Law applicable to the formal validity of marriages and consular marriages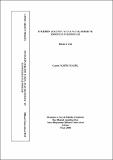 Embargo Lift Date: 2021-04-13
Author(s)
Advisor
Date
2018-04
Publisher
Bilkent University
Related items
Showing items related by title, author, creator and subject.
Singer, Ammy

(

Bilkent University

,

1990

)

Altinbaş, N.

(

Sage Publications

,

2014

)

A revision of family law became necessary in the late Ottoman Empire for several reasons. The sociocultural and economic landscape was transformed; war forced poor Muslim women who had lost their husbands into destitution; ...

Gümüş, T. Tolga

(

Bilkent University

,

2000

)

This thesis investigates the service and patronage relationship and family and marriage practices of gentry and lesser nobility in later medieval England in the light of Stonor letters and papers and Paston letters. This ...