Law applicable to the formal validity of marriages and consular marriages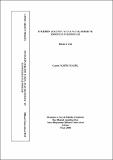 Embargo Lift Date: 2021-04-13
Author(s)
Date
2018-04
Publisher
Bilkent University
Related items
Showing items related by title, author, creator and subject.
Singer, Ammy

(

Bilkent University

,

1990

)

Altinbaş, N.

(

Sage Publications

,

2014

)

A revision of family law became necessary in the late Ottoman Empire for several reasons. The sociocultural and economic landscape was transformed; war forced poor Muslim women who had lost their husbands into destitution; ...

Kermeli, E.

(

Brill Academic Publishers

,

2013

)

This paper focuses on many interesting remarks with regard to the application of Ottoman law in Crete in the second half of the XVII century. At that time, the general principles of anafi¯ law on marriage and divorce were ...