Design, fabrication, and locomotion analysis of an untethered, miniature, legged, compressible, soft robot: CSQUAD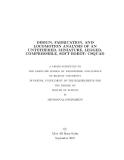 Embargo Lift Date: 2022-03-16
Author(s)
Date
2021-09
Publisher
Bilkent University
Related items
Showing items related by title, author, creator and subject.
Güzel, M.S.

;

Hinislioǧlu, Y.

(

2013

)

This study addresses the development of a novel intelligent robotic software system which can control a low-cost five DOF robotic arm and allows the robot to be able to play Tic-Tac-Toe, a simple board game. The paper first ...

Mahkam, Nima

;

Özcan, Onur

(

Elsevier

,

2021-06-29

)

In this work, the dynamics of "n" legged modular miniature robots with a soft body is modeled. The dynamic formulation is obtained using Newton–Euler formulation that depends on the contact parameters and the feet closed-chain ...

This work is motivated by the problem of detecting buried anti-tank and anti-personnel mines in roads or some border regions. The problem is tried to be solved by use of small mobile robotic sensors and their some abilities ...