Energy harvesting and wireless power transfer enabled wireless networks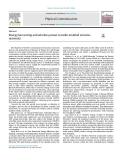 Embargo Lift Date: 2022-02-01
Author(s)
Date
2020
Source Title
Physical Communication
Abstract
Development of wireless communication networks, connected devices, and improvement of Internet of Things (IoT) will deeply impact in every aspect of human life. In future mobile systems, a tremendous number of low-power wireless devices will exist within the densely deployed heterogeneous networks. One key challenge from the growing demand in wireless applications is a sufficient and flexible energy supply. Hence, a natural spin from the traditional and limited energy sources to alternative energy sources is a natural step to supply the exponential growth of energy demand of the mankind. Recently, energy harvesting (EH) has emerged as an important method to provide a power supply for green self-sufficient wireless nodes, in which the energy captured from intentional or ambient sources can be collected to replenish the batteries. Besides, EH has been investigated as a promising technology to overcome the energy scarcity problem in energy constrained wireless communication systems, especially for wireless networks with fixed energy supplies. Compared with conventional EH sources such as solar, wind, vibration, thermoelectric effects or other physical phenomena, which rely on external energy sources that are not components of communication networks, a new operation of EH which collects energy from ambient radio-frequency (RF) signals has been proposed. As RF signals are commonly used as a vehicle for transmitting information in wireless networks, simultaneous wireless information and power transfer (SWIPT) has become an emerging technique attracting great attention from both academia and industry. Towards this end, this special issue includes a collection of 24 papers, and we aim to disseminate the latest research and innovations on energy harvesting and wireless power transfer enabled wireless networks.
Collections
Related items
Showing items related by title, author, creator and subject.
Ulucinar, A. R.

;

Korpeoglu, I.

(

Springer

,

2016

)

Equipping mesh nodes with multiple radios that support multiple wireless channels is considered a promising solution to overcome the capacity limitation of single-radio wireless mesh networks. However, careful and intelligent ...

Gokbayrak, K.

;

Yıldırım, E. A.

(

Elsevier

,

2017

)

Wireless mesh networks (WMNs) provide cost-effective alternatives for extending wireless communication over larger geographical areas. In this paper, given a WMN with its nodes and possible wireless links, we consider the ...

Terzi, C.

;

Korpeoglu, I.

(

John Wiley & Sons Ltd.

,

2016

)

Many sensor node platforms used for establishing wireless sensor networks (WSNs) can support multiple radio channels for wireless communication. Therefore, rather than using a single radio channel for whole network, multiple ...