Design, control, fabrication and maneuverability analysis of an untethered miniature soft robot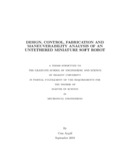 Embargo Lift Date: 2020-04-07
Author(s)
Date
2019-09
Publisher
Bilkent University
Related items
Showing items related by title, author, creator and subject.
Güzel, M.S.

;

Hinislioǧlu, Y.

(

2013

)

This study addresses the development of a novel intelligent robotic software system which can control a low-cost five DOF robotic arm and allows the robot to be able to play Tic-Tac-Toe, a simple board game. The paper first ...

Mahkam, Nima

;

Özcan, Onur

(

Elsevier

,

2021-06-29

)

In this work, the dynamics of "n" legged modular miniature robots with a soft body is modeled. The dynamic formulation is obtained using Newton–Euler formulation that depends on the contact parameters and the feet closed-chain ...

Kalın, Mert Ali İhsan

(

Bilkent University

,

2021-09

)

Conventional robotics has been effective for industrial applications such as fast, precise and accurate production or for sophisticatedly controlled systems for the last couple of centuries. However, as the robots become ...