Design, control, fabrication and maneuverability analysis of an untethered miniature soft robot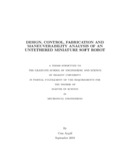 Embargo Lift Date: 2020-04-07
Author(s)
Advisor
Date
2019-10
Publisher
Bilkent University
Related items
Showing items related by title, author, creator and subject.
Güzel, M.S.

;

Hinislioǧlu, Y.

(

2013

)

This study addresses the development of a novel intelligent robotic software system which can control a low-cost five DOF robotic arm and allows the robot to be able to play Tic-Tac-Toe, a simple board game. The paper first ...

Ankaralı, M.M.

;

Saranlı, U.

(

2011

)

Autonomous use of legged robots in unstructured, outdoor settings requires dynamically dexterous behaviors to achieve sufficient speed and agility without overly complex and fragile mechanics and actuation. Among such ...

This work is motivated by the problem of detecting buried anti-tank and anti-personnel mines in roads or some border regions. The problem is tried to be solved by use of small mobile robotic sensors and their some abilities ...