Multifunctional ZnO nanorod-reduced graphene oxide hybrids nanocomposites for effective water remediation: effective sunlight driven degradation of organic dyes and rapid heavy metal adsorption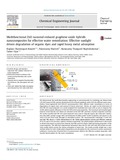 Embargo Lift Date: 2019-10-01
Author
Ranjith, K. S.
Manivel, P.
Rajendrakumar, R. T.
Uyar, Tamer
Date
2017-10
Source Title
Chemical Engineering Journal
Abstract
We demonstrate the multi-functionality engineering on nanocomposite by combining one dimensional (1D) ZnO nanorod (NR) and two dimensional (2D) reduced graphene oxide (rGO) for efficient water remediation. Nano-engineered ZnO NR-rGO nanocomposites show efficient water remediation in terms of degradation of organic dyes and removal of heavy metal ions. Herein, we report on the fabrication of ZnO NR-rGO nanocomposite via a facile template-free hydrothermal route with an aim to improve the visible photocatalytic efficiency of the ZnO NR based nanocomposites. The structural and morphological features reveal that the rGO sheets are attached on the ZnO NRs and form a hybrid composite assembly. The surface enabled ZnO NR-rGO nanocomposites were used to degrade organic dye molecules (methylene blue (MB), methyl orange (MO) and rhodamine B (RhB)) under visible irradiation and adsorb Cu (II) and Co (II) ions from water through an adsorption process. The nanocomposite containing 7.5 wt% rGO and ZnO NRs shows a 4-fold enhancement in the visible photocatalytic activity and effective removal of Cu (II) and Co (II) ions from aqueous solution respectively. The photocatalytic performance is discussed in detail with respect to interaction between ZnO NRs and rGO sheets, light-harvesting properties of the nanocomposites. The effective experimental adsorption data also fit very well with the pseudo-second-order model which reveals the surface adsorption of metal ions. The results provide insight into a new method utilize for both visible photo degradation and adsorption for the removal of various wastewater pollutants. Construction of hybrid form of nanostructures delivers the effective catalytic properties with tunable functionalities for the water remediation.
Related items
Showing items related by title, author, creator and subject.
Tunca, E.

;

Ucuncu, E.

;

Ozkan, A.D.

;

Ulger, Z.E.

;

Cansizoǧlu, A.E.

;

Tekinay, T.

(

2013

)

Concentrations of selected heavy metals and a metalloid were measured by ICP-MS in crayfish (Astacus leptodactylus) collected from Lake Hirfanli, Turkey. Aluminum (Al), chromium (52Cr, 53Cr), copper ( 63Cu, 65Cu), manganese ...

Tunca, E.

;

Ucuncu, E.

;

Ozkan, A.D.

;

Ulger, Z.E.

;

Tekinay, T.

(

2013

)

The present work details the analysis of heavy-metal and metalloid concentrations in exoskeleton, gill, hepatopancreas, and abdominal muscle tissues of 60 crayfish (Astacus leptodactylus) specimens collected from Lake ...

Ergul-Ulger, Z.

;

Ozkan A.D.

;

Tunca E.

;

Atasagun, S.

;

Tekinay, T.

(

Taylor and Francis

,

2014

)

Conventional methods of chromium removal are often insufficient for the remediation of chromium-contaminated natural environments, necessitating the development of alternative strategies. In this paper, we report the ...