Comparison of the formulations for a hub-and-spoke network design problem under congestion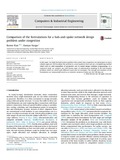 Embargo Lift Date: 2019-11-01
Author
Kian, Ramer
Kargar, Kamyar
Date
2016
Source Title
Computers and industrial engineering
Abstract
In this paper, we study the hub location problem with a power-law congestion cost and propose an exact solution approach. We formulate this problem in a conic quadratic form and use a strengthening method which rests on valid inequalities of perspective cuts in mixed integer nonlinear programming. In a numerical study, we compare two well known types of mathematical modeling in the hub-location problems which are solved with different branch and cut strategies. The strength and weakness of the formulations are summarized based on an extensive numerical study over the CAB data set. © 2016 Elsevier Ltd
Collections
Related items
Showing items related by title, author, creator and subject.
Dedeoğlu, Mehmet

;

Alp, Yaşar Kemal

;

Arıkan, Orhan

(

IEEE

,

2014

)

Finite impulse response (FIR) filters have been a primary topic of digital signal processing since their inception. Although FIR filter design is an old problem, with the developments of fast convex solvers, convex modelling ...

Cicekli, I.

(

Elsevier

,

1998

)

A compiler-based meta-level system for MetaProlog language is presented. Since MetaProlog is a meta-level extension of Prolog, the Warren Abstract Machine (WAM) is extended to get an efficient implementation of meta-level ...

Flener, Pierre

(

Springer

,

1996-08

)

DIALOGS (Dialogue-based Inductive and Abductive LOGic program Synthesizer) is a schema-guided synthesizer of recursive logic programs; it takes the initiative and queries a (possibly computationally naive) specifier for ...