Non realist tendencies in new Turkish cinema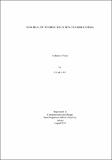 Embargo Lift Date: 2018-09-09
Date
2016-09
Publisher
Bilkent University
Related items
Showing items related by title, author, creator and subject.
Akan, Didem

(

Bilkent University

,

2006

)

This thesis analyzes the reasons why did India not become a party to the Nuclear Nonproliferation Treaty. Realism and critical constructivism are chosen as the two theories to examine the constant factors leading to the ...

Celikcan, U.

;

Yaz I.O.

;

Capin, T.

(

Blackwell Publishing Ltd

,

2015

)

We present a novel method for retargeting human motion to arbitrary 3D mesh models with as little user interaction as possible. Traditional motion-retargeting systems try to preserve the original motion, while satisfying ...

Turgut, Canan Öktemgil

(

Bilkent University

,

2003

)

Latife Tekin (b. 1957) is an influential writer whose early works had a deep impact on Turkish literature during the 1980s. She focuses on the lives of the poor and of people who migrated from villages to huge urban ...