The historical archaeology of the Early Ottomans : a new perspective on arguments about the foundation of the Ottoman Empire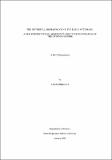 Embargo Lift Date: 2017-04-02
Date
2015
Publisher
Bilkent University
Related items
Showing items related by title, author, creator and subject.
Gates, M. -H.

(

Blackwell Publishing Ltd

,

2007

)

Yıldırım, B.

;

Gates, M. -H.

(

Archaeological Institute of America (Boston)

,

2007

)

This edition of the "Archaeology in Turkey" newsletter presents an overview of the archaeological work undertaken in Turkey in 2004-2005. We intend to publish a newsletter from Turkey in alternate years in this journal. ...