The historical archaeology of the Early Ottomans : a new perspective on arguments about the foundation of the Ottoman Empire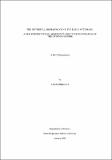 Embargo Lift Date: 2017-04-02
Author(s)
Advisor
Date
2015
Publisher
Bilkent University
Related items
Showing items related by title, author, creator and subject.
Zavagno, Luca

(

Institute of Mediterranean Knowledge

,

2016

)

The present volume aims at offering a less detailed but chronologically broader survey of the agents of the above mentioned matrix of communications across the Mediterranean basin from the early Medieval to the Modern era. ...

Zimmermann, Thomas

(

The Oswald Spengler Society

,

2020

)

The following contribution attempts to reconcile aspects of Cultural Morphology as outlined by Oswald Spengler in his seminal Decline of the West and Man & Technics with archaeological observations dating to the transitional ...

Siddiqui, Rida A.

(

Bilkent University

,

2018-05

)

This thesis examines the scope of conducting a community archaeology project at three archaeological sites from Gandhara, Pakistan; Mankiala, Mohra Muradu and Jandial. In analyzing this possibility, the context in which ...