The historical archaeology of the Early Ottomans : a new perspective on arguments about the foundation of the Ottoman Empire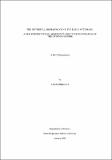 Embargo Lift Date: 2017-04-02
Date
2015
Publisher
Bilkent University
Related items
Showing items related by title, author, creator and subject.
Zavagno, Luca

(

Institute of Mediterranean Knowledge

,

2016

)

The present volume aims at offering a less detailed but chronologically broader survey of the agents of the above mentioned matrix of communications across the Mediterranean basin from the early Medieval to the Modern era. ...

Aktaş, Elif Nurcan

(

Bilkent University

,

2018-05

)

The main purpose of this thesis is to try to evaluate Palaeolithic archaeology according to the academic atmosphere in Turkey and its current situation independent from the events which lie in its background. The Palaeolithic ...

Saraç, Dinç

(

Bilkent University

,

2003

)

This paper explores the historical evolution of archaeological heritage management in Turkey and in Europe. Its overall aim is to draw attention to the growing significance of archaeological heritage management, and to ...